We stopped for 3 days in Jackson, Wyoming.  Jackson is a really pretty town.  There are at least half a dozen ski runs that finish right at the end of town – I bet you can ski from the slopes straight in the Snake River Brewery (what would be the Full Sail Brewery in Hood River for all you HR folks).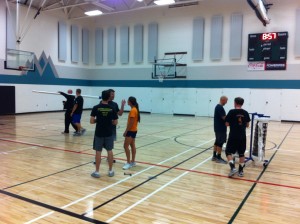 T had a great idea one day to checkout the local community rec center for a swimming pool.  Not only did they have one but they also had a jacuzzi and an awesome water slide …  We also found out they had an open gym volleyball night coming up. The next day I decided to give it a try.  Usually open gym volleyball is a gamble since either the level is not great or sometimes people are not very friendly.  Turned out this place was neither.  Folks were awesome and we had 3 hours of great 6 vs 6 ball.  I had soooo much fun.  I felt rusty (timing, speed, passing, etc.) after spending two and a half months in a car but I felt really good to hit a few balls.
I remember three of the folks Michael, Destin and Crista.  Thanks Michael for the good time and the beer after :).   Jackson VB rules!