My anxiety had been growing for several weeks every time I got in the truck with George. We have an ever expanding laundry list of to-dos on the truck which we were not coping with very well. The laundry list was manifesting as an angry Bulgarian driver.
Many backpackers hike between the towns on the Quilotoa loop. Since we have Vida, we opted to head straight to the mid point. The drive to Chugchilán on the loop started well with a chance encounter of a local celebration just outside of Latacunga. We were quickly offered a shot of the local liquor by some friendly face-painted gentleman. I squelched my usual internal warning alarm and embraced local custom by drinking out of the communal cup.
After enjoying the festivities for a little while, we got on our way. As the road degraded, so did George's mood. He heard a new noise that could be the transmission. His tone implied – why had you brought us down this shitty road Teresa? I asked him to stop yelling at me. George replies that he is not yelling at me, just yelling. Hmm, right then.
Lucky for me, Hostal Cloud Forest where we were staying provided two meals a day. With some pork and beer for dinner and a good nights sleep, the laundry list of fix-it items once again seemed attainable and our transmission had not blown up. We enjoyed the beautiful views and lush setting of the hostal the next day before heading to Quilotoa crater lake.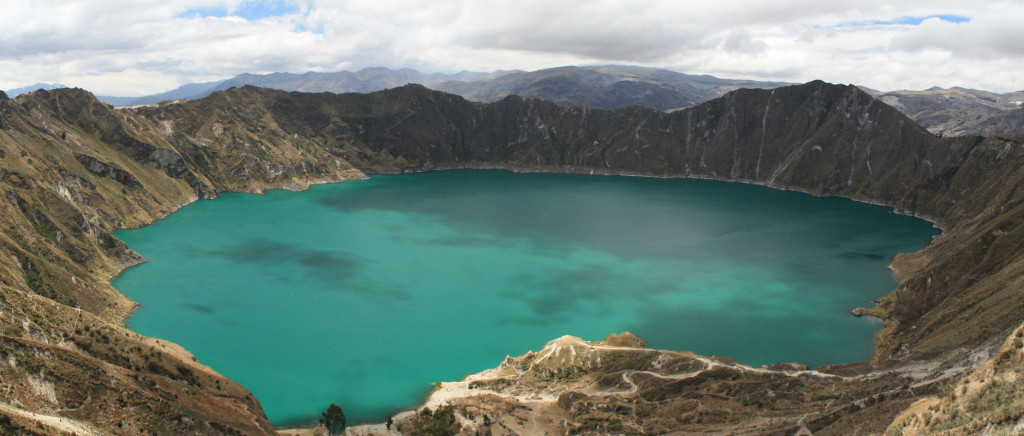 It is my personally opinion that hikes that end with the harder part, in this case hiking out of the crater, are no good. I'll admit that my favorite part of hiking is the feeling I get when I start walking back down. The lake draws you in quickly though. You've committed before you realize how f$%king dusty it is, how annoying donkeys running on a trail can be, and how heart pounding the climb back up will be.
Ok, I'm beging dramatic. It's a quick 30 minute walk down (~400 meters). Thankfully, the sand is actually kind on your knees and the donkeys are only a minor annoyance. The lake is stunning, you have a snack, and then you climb back out in about 1 hour 15 minutes.
After reaching the top, G was drawn in by the aroma of grilled meat. We swung by a local food stand where G ordered papas con pollo (potatoes with chicken). The potatoes come first in the Andes. We not only got a bowl of good food but some good conversation with a local family.