After dragging ourselves away from Quito and new friends, we headed to Cotopaxi National Park. The highlight of the park is 5897 meter Volcán Cotopaxi.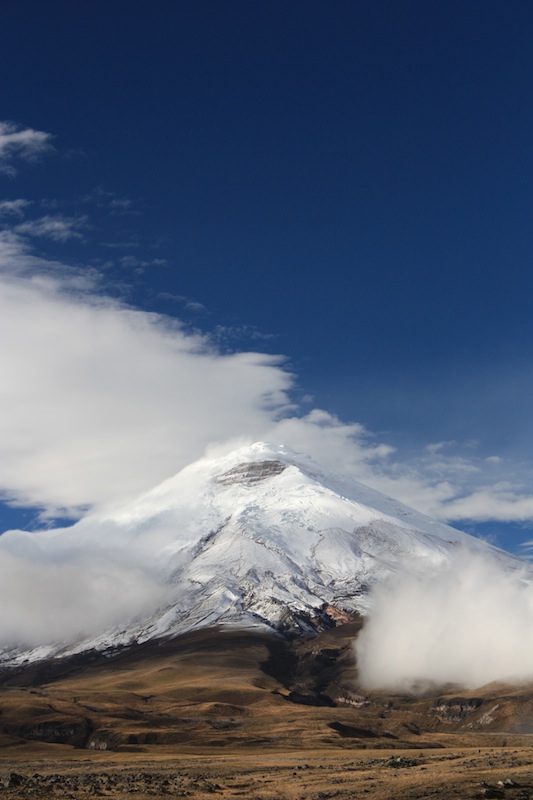 We set camp at Tambopoxi for the night and braved the strong winds and rain to prepare dinner. Some less battle-tested campers joined us for the evening. Now, I don't think I'd be stretching the truth if I use the phrase 'clown tent' to describe their sleeping situation. George asked them how their sleep was in the morning, which they quickly claimed was great. I call bullshit because that's a one-season tent at best. Getting off my veteran camper pedestal and on with the day's business, we set our sights on Cotopaxi. First, we fortified ourselves with another meal of potatoes, which we still had an overabundance of (welcome to traveling with George).
We took the well-graded dirt road up the volcano to a parking lot a few hundred feet shy of Refugio José Ribas (Jose Ribas Refuge) at 4864 meters (15,953 feet). If you're paying attention, that puts us and Vida over 4400 meters without breaking a sweat which means we drove higher than Mount Rainier at 4392 meters.  It is then a short but heart pounding climb to the refuge and about a half hour more to the glacier. Although the climb is a relatively short one, it was definitely not easy going because of the altitude and steep incline. The highest point we hit on the hike was just over 5000 meters with George in a full stretch. For the mountaineer set, the refuge is also a base for summiting Cotopaxi. We're told the groups leave around midnight and take approximately 6 to 8 hours to reach the summit.
That evening, we rewarded ourselves with a movie in the tent with a diy movie screen. Not too shabby. That thing was secure. George wouldn't risk his mac 'baby' without a safety self-tightening knot just in case.
All told, we loved the park and the climb. I've been dreaming about the Andes for several months, and Cotopaxi was surely a great welcome.