Quick List
Coleman 2-Burner dual fuel stove
Backpacking stove
GSI outdoors cookset
10.25 inch cast iron skillet
Pressure cooking
Small pan
Large plastic cutting board
Collapsible bowl
Colander
Two of each: metal plates, titanium mugs, bowls and sporks, and cutlery set
Big ass knife
Scrapper
Italian coffee maker
Small chopping knife
Serrated knife
Small hand held orange juicer
Whisk
Spatula
Vegetable peeler
Coleman 2-Burner dual fuel stove
on amazon

Although you can use both Coleman Liquid Fuel or unleaded gasoline in this, we've stuck to gas. Since we cook so much on it, the accessibility and relative low cost of gasoline compared to propane has really paid off for us.
Backpacking stove
Perfect for hiking, making coffee quickly, or if you need some more heat in the mix when preparing a big camp dinner.
GSI outdoors cookset
When we're camping with the truck, the smaller pot comes in handy for sides like rice. When backcountry camping, this little set becomes our kitchen. It is super space efficient, light and heats up water relatively quickly.
10.25 inch cast iron skillet
This pan is worth its weight in gold. You can prepare anything from a big stir fry to fish in this bad boy. Not to mention the fact that you can cook on an open fire with it.
Pressure cooking
on amazon

Using a pressure cooker saves you time and fuel respectively.  It also cooks evenly everything so no concerns if all the food is good to eat (something that could happen if cooking in a pan out in the elements).  This pressure cooker is designed for camping so that it's sturdy and more compact than you're typical kitchen variety.
Small pan
George has had this little pan for 10 years. It's great for cooking crepes for frying up some eggs or anything else you might like.  It is small, light and the handle folds in which makes it perfect for backcountry.
Large plastic cutting board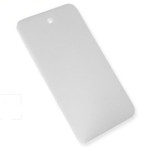 We started with a little one, and it was always frustrating. You're going to want the real estate when chopping vegetables or preparing fish.  The bigger one we have now is from REI, it weights absolutely nothings and takes no space.
Collapsible bowl
on amazon
This bowl has been a life saver from making crepes to salads or rice dishes.  You need one!
Colander
on amazon
We're using a small mesh strainer that I had originally bought for washing dry beans and grains before cooking. It's big enough for the two of us and the handle on it gives you some distance from the steam when straining pasta and such.
Two of each: metal plates, titanium mugs, bowls and sporks, and cutlery set
on rei plate spork mug bowl utensils
I love them all. The plates are sturdy and have a rim on them. The bowls, mugs and sporks are titanium which makes them super durable, extremely light and most importantly if you ever step on them you can bend them right back up. The cutlery set is compact and durable as well.  Hint:  get yourself 2 spare sporks and mugs.  Keep them hidden deep, deep away.  You will probably loose one or two of the sporks or mugs and you will be cursing your luck…
Big ass knife
We use this for cleaning fish and as another chopping knife when we're both engaged in dinner prep. We really haven't missed having a fish-filleting knife, but it's easy enough to pick up.
Scrapper
For cleaning your beloved cast iron pan.
Cork screw and bottle opener
Clearly.
Italian coffee maker
on amazon

This is truly the most important thing for me. Morning coffee is a little slice of our home routine. Some days you need something to cling to from your former life.
Small chopping knife
on amazon
We have a cheap one, but I wish I had bought something like this Rachel Ray pairing knife with a sheaf before we left. Decent quality, but I wouldn't cry about losing it.
Serrated knife
Pick up a cheap one. Perfect for bread and tomatoes or meat if you like that kind of thing.
Ladle
In cold weather, the one pot meal is where it's at and a ladle is very helpful. Also keep in mind earlier comments about making crepes. We make huge batches frequently, and the ladle is the perfect measuring tool. Use a mug you say? You'll see how messy and inaccurate this actually is.
Small hand held orange juicer
Bags of oranges are super cheap.
Whisk
Now this might seem like a luxury, but trust me, you want one. If you every want to make pancakes or crepes, this is essential.
Spatula
For flipping stuff.
Vegetable peeler
For carrots, potatoes, yucca, etc… We also use it pretty creatively for slaws and hash browns.